---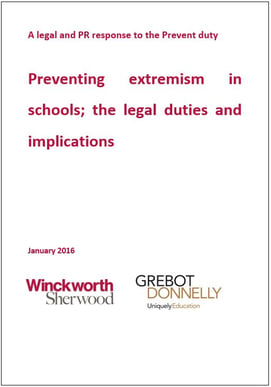 A legal and PR response to the Prevent duty: implications for schools
On 22 December 2015 the Department for Education launched a consultation on revisions to the statutory guidance on keeping children safe in education. A key focus of the consultation is online safety and the threat posed from extremist material. School leaders have become increasingly aware of the risks of radicalisation to pupils, staff and the wider community.
Our White Paper, jointly produced by Winckworth Sherwood and Grebot Donnelly, offers advice, observations and specific comments from a legal and PR perspective. Knowledge drawn from our experiences is provided in the hope that this will help schools manage the challenges facing them. Email us for a free copy of our White Paper.
Reminder: schools failing to comply with the Prevent duty and the promotion of British values on their website, face the possibility of an unfavourable outcome following an Ofsted inspection.
The Paper draws on the experiences of Bethnal Green Academy. Academy Principal and CEO of Green Spring Education Trust, Mark Keary, comments:
"This year we have faced unprecedented challenges. The threat of extremism is not new to any of us. All too regularly we see first hand the tragic consequences that extremist ideology and the lexicon of hate brings upon families and communities caught up in this international issue. Radicalisation via social media is a clear and evolving threat to our young people and one that cannot simply be addressed through increased safeguards."
In addition to covering the primary legal concerns facing schools in responding to the Prevent duty, we seek to provide schools with a series of recommendations from a legal and communications perspective. Top tips from the Paper include:
communications strategy planning;
crisis management techniques;
dealing with the media;
development of consistent messages;
a 10 point plan for updating your safeguarding policy;
British values and how to promote them;
longer term reputation management.