BRINGING A VISION & NEW BUILD SCHOOL TO LIFE
They say a picture paints a thousand words and no truer words have been spoken with the visual transformation of this Ofsted rated 'Outstanding' school in Rotherhithe. In 2019 the school had gained prestigious awards linked to Music and Sports and had also been nominated for a plethora of building awards.
Pupils and staff formally moved into new colourful educational spaces in October 2017 which had been specifically designed for pupils during the day and out of hours space for the local community. At the centre of the school is a 'heart space' which has a unique curved staircase and links to a new large external courtyard with direct access to the hall that is used for dining, performances, exhibitions and other events for the school and the community.
The school decided that the time was right to morph its external public face and communicate all the changes happening on the inside. The brief was to look strategically at producing a brand that was fit for purpose and that showcased the 'new' Albion School.
We started with a research piece that linked the branding to the vision, values, ethos and culture of the school; not only what had been achieved to date but the ambitions and future journey of this innovative school.

Throughout the summer of 2019 we worked with the Headteacher and Senior Leadership Team, along with all stakeholders, and created a new brand. This involved the development of the school's new vision and values and creating of a new strapline and associated key messages for all marketing materials and photography shoots that would capture and communicate all that was unique about Albion.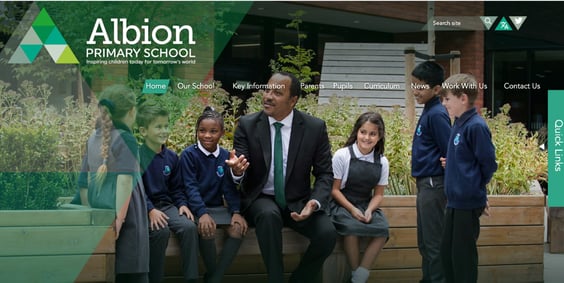 Quote:
"I have worked with Grebot Donnelly over many years and wanted to get their expertise on this particular challenging project. Our school motto is 'Inspiring children today for tomorrow's world' and our new school environment did exactly this. However, our public profile was outmoded.

What a transformation - this is more than I could have hoped for! It has not only brought our vision to life but has given us a platform to communicate our future plans and ambitions. We are delighted with the results and everyone has embraced the visual transformation that captures the vision, ethos, values and the new direction of this fantastic school."

Karl Bardouille, Headteacher