What are a school governor's superpowers? We're going to explore the attributes and skills that a governor can bring to the role, particularly from a marketing perspective. From the get go, what a status to have - we know that you're popular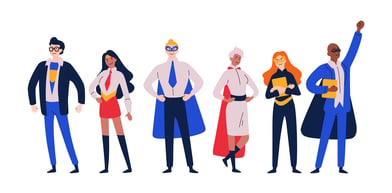 and sought after; resourceful and strategic; industrious and community-minded! You will also be naturally inquisitive, have the ability to question and analyse, a willingness to learn and good inter-personal skills. And because this is the world of education, and a fascinating sector, you know it will be a rewarding role.
Along with a myriad of responsibilities, the key areas of strength that we believe a governor can contribute is being an ambassador, critical friend and champion of the school; helping to protect, manage and enhance the school's reputation.
Starting with strategic direction, there is a range of marketing disciplines that you can support with in effecting change. These are linked to the school's vision, values and ethos which as a governor you will be living and breathing as part of your championing role. This in turn will have an impact on cultural transformation within the school involving all its stakeholders. Your listening, engaging and empathy skills will be invaluable as you gather views from current and prospective parents, pupils and staff to support the school's development.
As a critical friend of the school, your input at key school events and activities will play an integral role in school improvements. From a marketing perspective this will also support with the important aspects of pupil and staff recruitment that in turn will consolidate pupil numbers, the roll and school budget, as well as securing the best staff talent pool.
In your ambassadorial role the communication of key messages and the school's strengths as well as the sharing of good news across your networks will help build the school's public profile. The board of governors is uniquely placed to support the school with the building of relationships, not only within the school but also between the school, parents, pupils, the local community as well as the local authority, the trust, sponsors and employers. We strongly recommend using the board's skills set to develop a unique partnerships strategy.
The board will be well placed to support the school in forming these strategic partnerships through networks and alliances on a local and national level (and in some cases international too). This will not only extend the school's profile in the local community but also bring a beneficial range and depth of opportunities and experiences to all stakeholders. Where we have seen this work most effectively, outcomes have included pupil work experiences, sharing of resources and facilities, mentoring opportunities for pupils and staff, experts in field talks in school, financial contributions, favourable rates of products/services, and improved local PR and promotion of the school.
A school's reputation has so many components and everyone has a part to play – your engagement skills will come to the fore and will also support the school when a challenging situation or incident occurs.
Wherever your school is on its continued growth journey it takes courage, motivation and determination. Play your part and learn some new techniques by joining us at our workshop: A governor's introduction to marketing, click here to book your complimentary place.