As Alice Cooper captured the rowdy spirit of the last day of school in 1972 with his rock song 'School's out for summer' we approach the end of another academic year with an upbeat question - is it time to wind down to enjoy a half dozen or so weeks of RRR – rest, relaxation and reflection?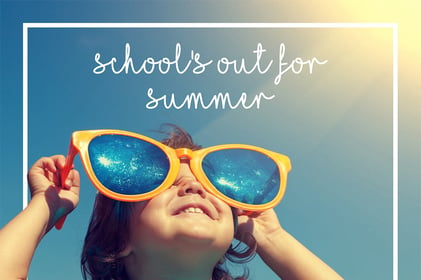 Having survived another year of challenges and uncontrollables, RRR is unquestionably top of the agenda. Rest for many of those that need to catch up on sleep; meeting up with family and friends; walking in nature; enjoying the British sunshine and going on holiday. Some will also have the opportunity to reignite their passions, hobbies and interests, or maybe learn a new skill.
For those on the cusp of RRR, and you know who you are, these are the marketing questions they are asking themselves: Have we done enough in preparation for the new academic year? If not, will we be so refreshed and energized that everything will be a breeze come September?
There are two schools of thought in the world of education marketing. There are those that have taken advantage of the good weather and been organised for what they know is the upcoming relentlessness of autumn term open event season. They have arranged photo shoots and film crews, created new prospectuses and handbooks, trained pupil ambassadors and organised a raft of summer events for prospective families. Rumour has it that exam results days (and understanding the fundamentals of marketing and recruitment opportunities) have also been organised with military precision.
There are others that need time to reflect. Towards the end of the summer term all those thoughts about preparation for open days/evenings, that always seem to catch schools unaware, buzz around annoyingly. We know that summer planning can mean advantage points at the beginning of the new academic year so during some down time, here are our summer top tips to make sure you are ready for the all-important pupil recruitment period:
Copywriting: prospectus, handbooks, magazine, annual editorial strategy and social media content.
Imagery: complementary photography/imagery for your printed and electronic visual brand identity.
Dressing to impress: inside – dazzling displays; outside – stunning signage (not you, the school).
Assemble & build: your senior and junior marketing teams; setting objectives, goals and milestones.
Personality & profiling: showcasing success – profiling pupils, staff and families.
Ending on a thumping summer tune and the concept of extra-sensory perceptions in the classic 'Good vibrations' by the Beach Boys we can offer you these additional summer goodies:
A wide range of free marketing workshops – 25 masterclasses every academic year – starting in September (different themes dependant on time of year). Subscribe to our mailing list to keep up to date with our new 2022/23 dates


Download our White Papers

: Inside the world of school branding and Prospecting for Gold: successful recruitment and retention of staff and pupils in the education sector
A

copy of our 2022/23 diary

with partner organisation case studies - coming September 2023!
A copy of our journal featuring a year in the life of an education marketer
A

complimentary 20 minute one-to-one mentoring session

for your school.
To find out more email Kim Bowyer to discuss your requirements on kimbowyer@grebotdonnelly.com or call 020 8892 2242.