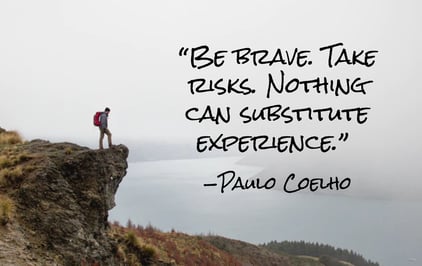 "Be brave. Take risks. Nothing can substitute experience." Paolo Coelho
How many more adverts do we need to see before the dawning of the new school year actually sinks in?
As we dust off the mantras, the motivational quotes, the school's vision… we prepare ourselves for a new dawning.
Pencil case (check); lunchbox (check); stationery (check); uniform (check); textbooks (check); remote learning at the ready (check) – and that's just the adults! Different memories flood back but one thing is for certain and, similar to the new calendar year, the new academic year allows us all to start afresh.
There's a lot of advice out there for pupils which can easily be translated and adapted for us slightly more mature humans including a smart routine; getting enough rest; eating breakfast; setting an alarm; eating a healthy lunch; being organised; listening to good advice; taking good notes; initiating conversations; exercising; keeping track of our schedule…the list goes on and on.
So what are your new school year resolutions? We've made these education based and in reality brings forward our 1 January 2022 resolutions by a good 4 months. But, if you're like us and resolutions come and go without being realised, these may provide some food for thought with lessons we can learn from the world of education:
Learn a new skill: get creative and be inspired in another area of your life. You need time and dedication but in doing any of the other points on this list you are going to have this in bucket-loads. Our starter for ten from our team: photography; Spanish; golf; baking; piano; paddle boarding; a new creative business; wedding planning; running and dancing… show us what you've got!
Strike a better work-life balance: what does this mean to you? Family, career, health, friends? Are there other areas that are important to you? Carve up that precious commodity that is time and just as you would with work block time out in your calendar to do whatever makes you feel healthy and wise.

Get organised:

here are a few reasons as to why we should: it boosts our self-confidence, it reduces stress, it makes us more productive, it enhances creativity, it enables us to adapt, it improves our health and our relationships…. what's not to love!
Make healthy lifestyle changes: will it make a difference is the first question? Undoubtedly yes, and not just a difference, a big difference! The gurus and experts are tripping over themselves to provide advice – so, if you want to live longer (!) up to 14 years for women (according to the analysis) then physical activity, healthy eating, not smoking and drinking in moderation are the key. Healthy body, healthy mind!

Find a mentor:

everyone needs a mentor in life; no matter what stage you are in your career, or your age. Seek one out to support you in your personal development and growth. A mentor will encourage, motivate and challenge you to be the best version of you. Find a mentor, but become one too and pay it forward!
In terms of learning a new skill, and to start the new school year with a flourish, we are offering over 25 masterclasses throughout 2021/22 for leaders and educators across all marketing disciplines. Visit our website and book your free place now: www.grebotdonnelly.com/services/training-school
If you would like to book a complimentary one-to-one mentoring session for your school, when you will be able to speak with our senior advisers, email Kim Bowyer to discuss your requirements on kim.bowyer@grebotdonnelly.com or call 020 8892 2242.